RM Sotheby's European mainstay auction features a hometown supercar hero, the Jaguar XJ220.
Forest Casey
Looking back, it is quite difficult to comprehend the optimism in which the Jaguar XJ220 was conceived. Created in conjunction with its more stripped-out, motorsports-derived twin, the XJR-15 in the positive days of the early 1990s, the twin halo vehicles were developed in conjunction with Tom Walkinshaw Racing under the marque of an all-new, performance-based sub-brand named JaguarSport, Ltd., a scenario almost impossible to imagine now. One of these supercar siblings was an all-out racer, developed mostly for racing. The other, our example today, has more in common with the drivable, livable supercars we see produced today.
Rear-wheel drive and a five-speed manual Ricardo gearbox make an uncommon pair, especially in the range-topping sports cars of our current era. One owner from new and delivered new to the United Kingdom, this 1993 Jaguar XJ220 is a rare beast and exists as a genuine supercar for its era. This fully British icon is a highlight of RM Sotheby's London auction, set to unfold on 6 November 2021.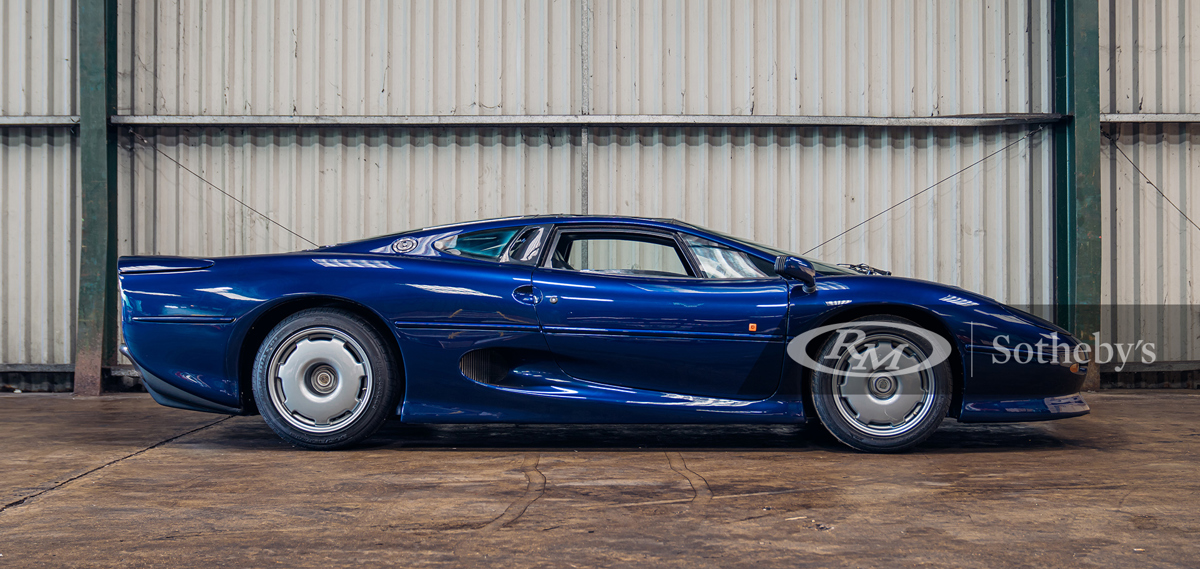 1993 Jaguar XJ220
Estimate: £375,000 - £425,000
From the moment it debuted, at the 1988 British International Motor Show, the design of the XJ220 concept captured the spirit of the Jaguar brand as much as it did the attention of audiences. The overall shape of Jaguar's newest supercar was sculpted by a South African, Keith Helfet, who was fortunate to share significant time face-to-face with the company's founder, Sir William Lyons. As Helfet described in this fascinating, recent interview, "I had a one-to-one with Sir William each week from part-way through 1980 until he died in 1985."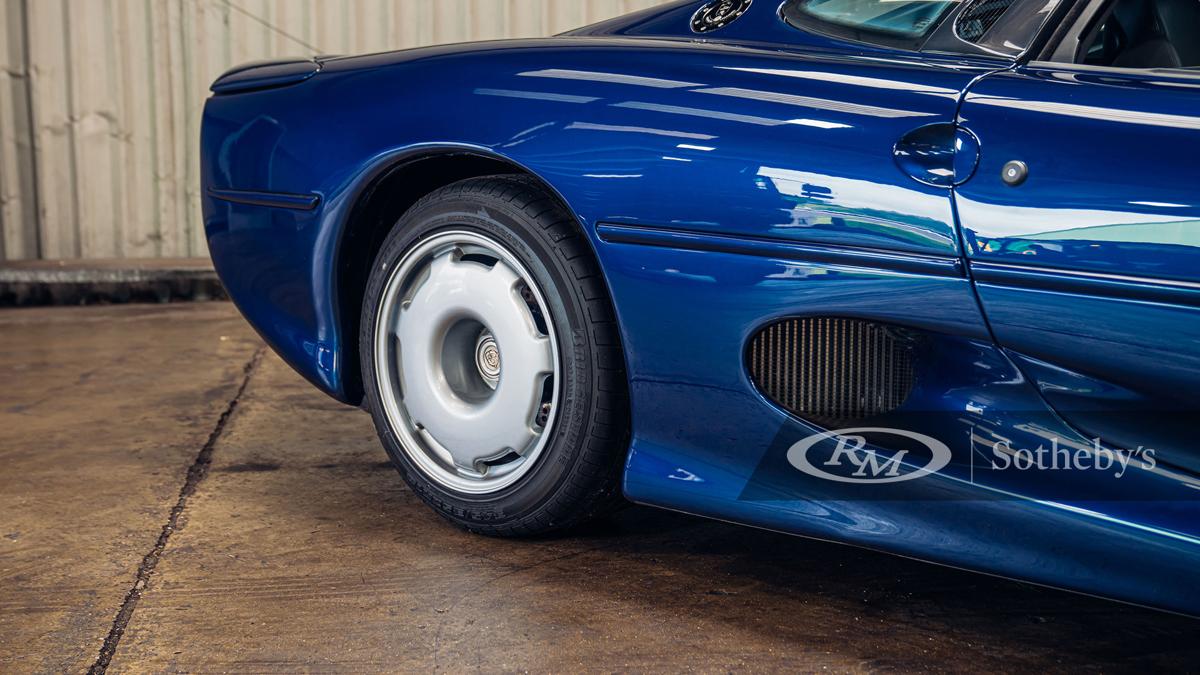 Compared to other concept cars released during that same year, the XJ220 appears today to be eons more timeless; with aerodynamics influenced less by its peers and more by the air itself. Of course, the goal of the XJ220 was a blistering top speed. Achieving 220 m.p.h. during the early 1990s would have catapulted Jaguar's new supercar above the venerable Ferrari F40 (201 m.p.h.) and Bugatti EB 110 (213 m.p.h.). And while it is commonly trod territory to talk about why the XJ220 did not achieve its stated objective, the maximum speed achieved by Jaguar engineers in-period of just over 217 miles per hour was good enough to earn the uber Jaguar its title of the world's fastest production automobile in the Guinness Book of Records, a tall order for any car. It also received a combined efficiency rating of 32 mpg U.K. or 27 mpg U.S., stunning for any performance machine.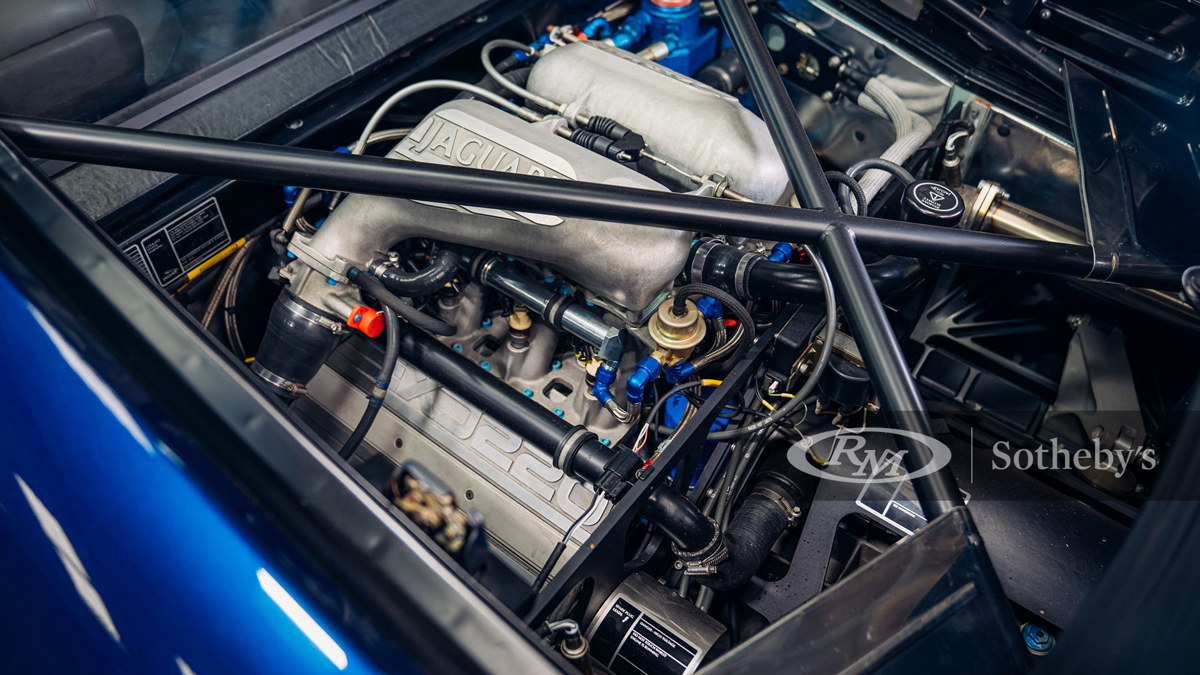 The recent critical reassessment of the Jaguar XJ220 can readily be seen online. Jay Leno, after driving an XJ220 in a spirited manner, felt the urge to apologize to the car for judging it in-period. Another popular automotive journalist, Doug DeMuro, racked up over 4 million views on a deep dive of the XJ220 that runs nearly 40 minutes in length. Neither reviewer requested more power; both enjoyed the push from the twin Garrett turbochargers. But perhaps the shining moment for the XJ220 was in front of a hometown crowd, on the BBC's Top Gear, which triumphantly took an example up to 200 miles an hour on a closed runway, besting its main rival, the Ferrari F40.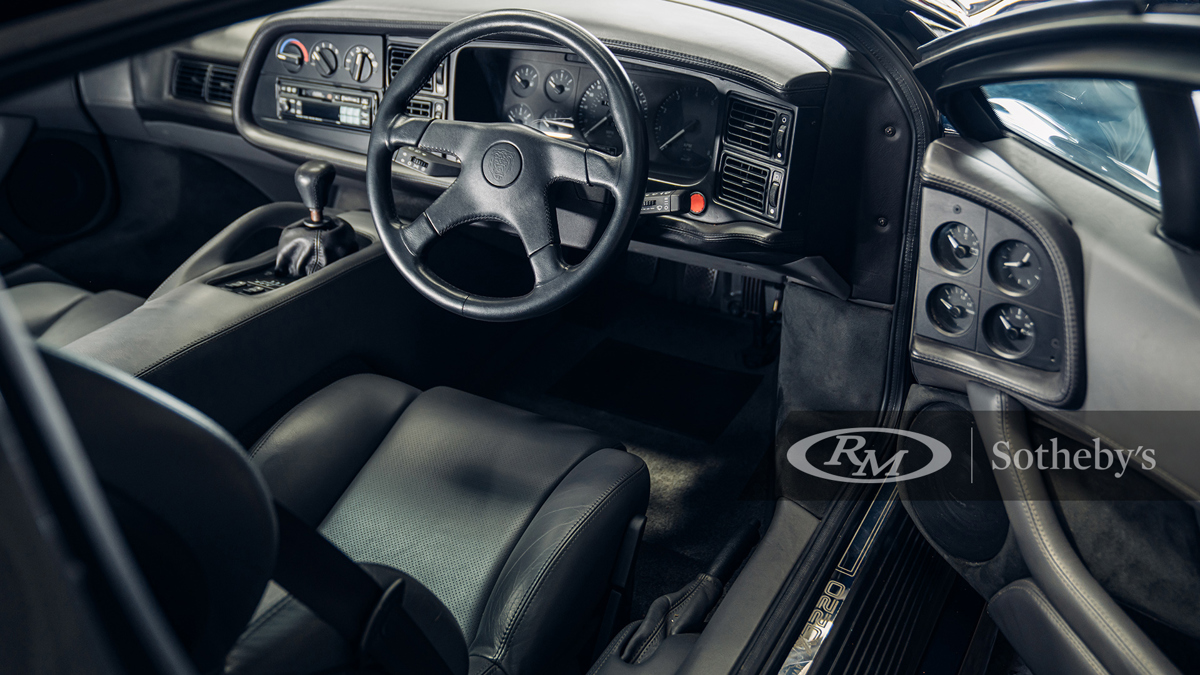 Which brings us to today's Le Mans Blue-over-Black example. Befitting its hometown nature, this chassis (no. 829), believed to be the 72nd built out of a total of 281, is one of a fraction built in right-hand-drive. Opening the driver's door on the XJ220 is an event in and of itself, with its wraparound cabin featuring its signature incorporation of quad gauges just to the right of the steering wheel. Though JaguarSport also built export-ready examples for the rest of the world, there was no doubt that the U.K. market benefitted from their hometown status, as several controls such as the bonnet and engine cover releases are fixed to the right side of the car.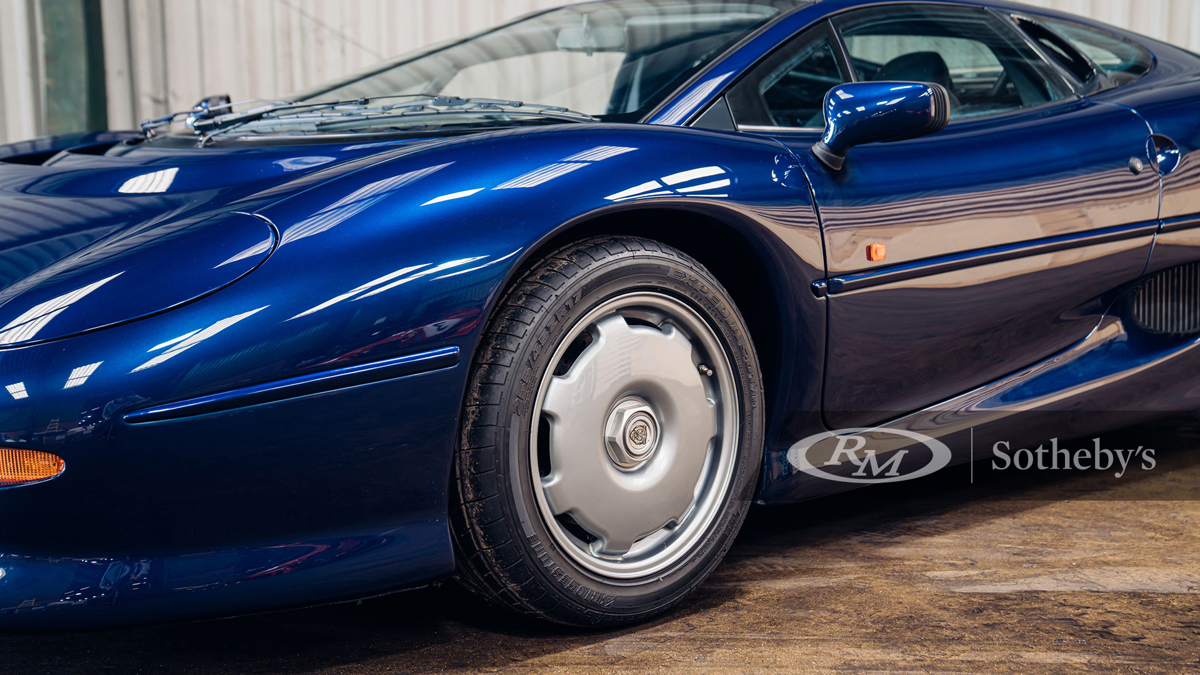 With only 295 miles showing on its odometer, the next owner of chassis 829 can claim to have likely the lowest-mileage XJ220 supercar ever offered at public auction. And with a recent, thorough recommissioning between May 2017 and March 2018, carried out by worldwide XJ220 experts Don Law Racing of Newcastle-under-Lyme, the new owner can also enjoy the comfort of knowing their nineties supercar is as close to fresh as possible, right down to a new set of original-specification Bridgestone tires, another factor in the resurgence of this supercar.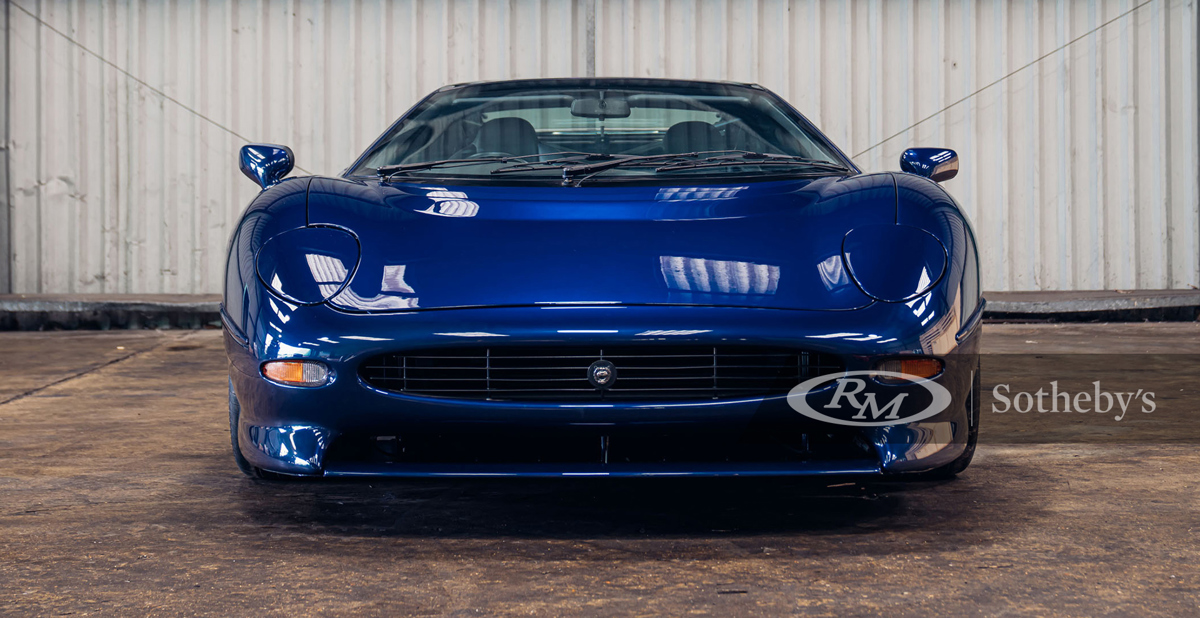 Regular reassessment is crucial for all industries and interests. Part of the reason why the Jaguar XJ220 was so misunderstood upon its release are the same factors that make it so appealing today: Rarity, being chief among them. Today regarded as an undisputed icon of its era, the XJ220 is nearly four times more uncommon than its main rival, the Ferrari F40. Especially wearing a shade as striking as this Le Mans Blue on its sensual shape, this Jaguar is now being compared favorably to some of the British brand's greatest hits, with Hagerty recently measuring the value gap between the XJ220 and D-Type as steadily shrinking. With this low-mileage set to stun crowds when it crosses the block at RM Sotheby's London Fall auction on 6 November 2021, we can confidently say that this Jaguar supercar has earned its time in the spotlight.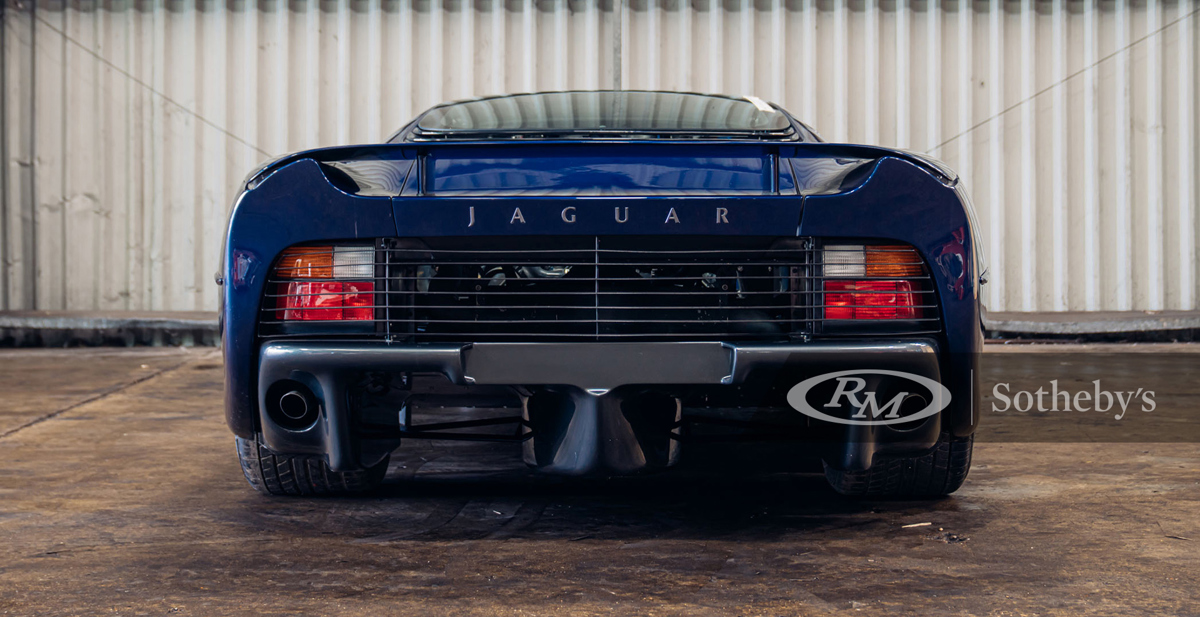 link to original article:
https://rmsothebys.com/blog-editorial-videos/blog-editorial-videos/a-super-cat-arguably-the-lowest-mileage-xj220-to-be-offered-recently-at-public-sale-is-coming-to-rm-sotheby-s-london-auction/
Share this